Every GCode Nutrition product comes with a back story. Like the hero of an epic tale, our products each have an origin mythology. Not for the sake of unnecessary drama or marketing hype. But because each has an express intent and purpose–with years of day-dreaming, meditation, devising, scheming, trial, error and evolution that precedes its public life.
Like VICE and RISE before it, the newest GCode product was a product born of necessity, to fill a very necessary void in the industry, and in the lives of the consumers we so faithfully serve. I fondly remember the formative years of the 1990s. When the packeted meal replacement powders dominated the scene. And when some of the best bodybuilders and athletes in the world depended heavily on these shakes both to bridge the gaps between whole food meals and to fortify their daily nutritional regimen. Personally, I longed for such a product in modern days.
To tell the truth, I had soured on the traditional protein shake. Maybe it was because I literally consumed tens of thousands of them in my life. From mega calorie gainers intended to pack lbs on my once wiry frame to watery whey shakes that seemed so insubstantial to highly-processed RTDs where you wondered how denatured the nutrients had to be to remain stable in solution for months at a time, I was fed up. I started blending my own "meal in a mug" with milk and egg whites, oats and fruits, trying to create something of substance. In many cases, I was opting for chocolate milk over the standard supplement alternative. It had gotten that bad. I longed for the days of the Met-RX and Myoplex that my magazine heroes relied upon so faithfully when I was a kid. So, now a man at the helm of our growing movement, with an opportunity to develop these singular products for you, I challenged myself with a question.
What would those iconic meal replacements look like in 2019? What would the best lifters and athletes and bodybuilders in the world demand now? What would be my perfect "protein shake" and how could we redefine that term? In a meal prep culture where many more seasoned and knowledgeable consumers had sworn off shakes all together, how could we create something for them to believe in?
Like anything worth accomplishing in this world, we'd have to keep our standards high. In developing the criteria for this product, we set the bar in the sky. It would have to…
Have no empty calories and no sugar.
Be high in bioavailable protein.
Contain only quality, unprocessed carbohydrates and healthy fats.
Be fortified by micronutrients in their most natural form.
Digest easily and optimally.
Be as nutrient dense and calorically economical as possible.
Taste incredible.
It would have to be convenient and cost-effective. It would have to have wide range in its appeal—from hardcore bodybuilders to elite conventional athletes to real folks on the run who need better options, we wanted to provide macronutrient support that could be counted on at all times of day and night–in between meals, post-workout or as a viable alternative to a whole food meal that you chew. It was a tall task, and one not to be taken lightly. Because our brand and our products represent more than just business.
Reliability, dependability, trust… These are some of the most important qualities you could ever ask for in a friend. And those exact same attributes are what we seek to define our brand, and by logical extension, all of our products. But most especially this one. For the manual laborer, the traveling salesman, the overwhelmed mother, the football player practicing two-a-days, the fighter in training camp, the competitive bodybuilder deep in prep, just as we hoped VICE could help power your machine, we needed this product to fuel your dreams… To feed your daily grind.
What was born of this dire desire and this very stringent set of specifications, was FEAST. Whether considered a super-charged protein or a whole-food meal replacement, you will be hard-pressed to find more nutrition packed into 130-140 calories on this planet. 20+ grams of protein from whey protein isolate and egg whites, with the added macronutrient punch of oats and three grams of medium chain triglyceride (MCT) oil. A full serving of greens (from kale, spinach and broccoli) to provide antioxidants and micronutrients in their natural form. And a full serving of antibiotics and digestive enzymes intended to optimize digestion and gut health, because your nutrition program is really only as good as your ability to assimilate and process nutrients. That's what can be found in every single scoop of GCode Nutrition FEAST.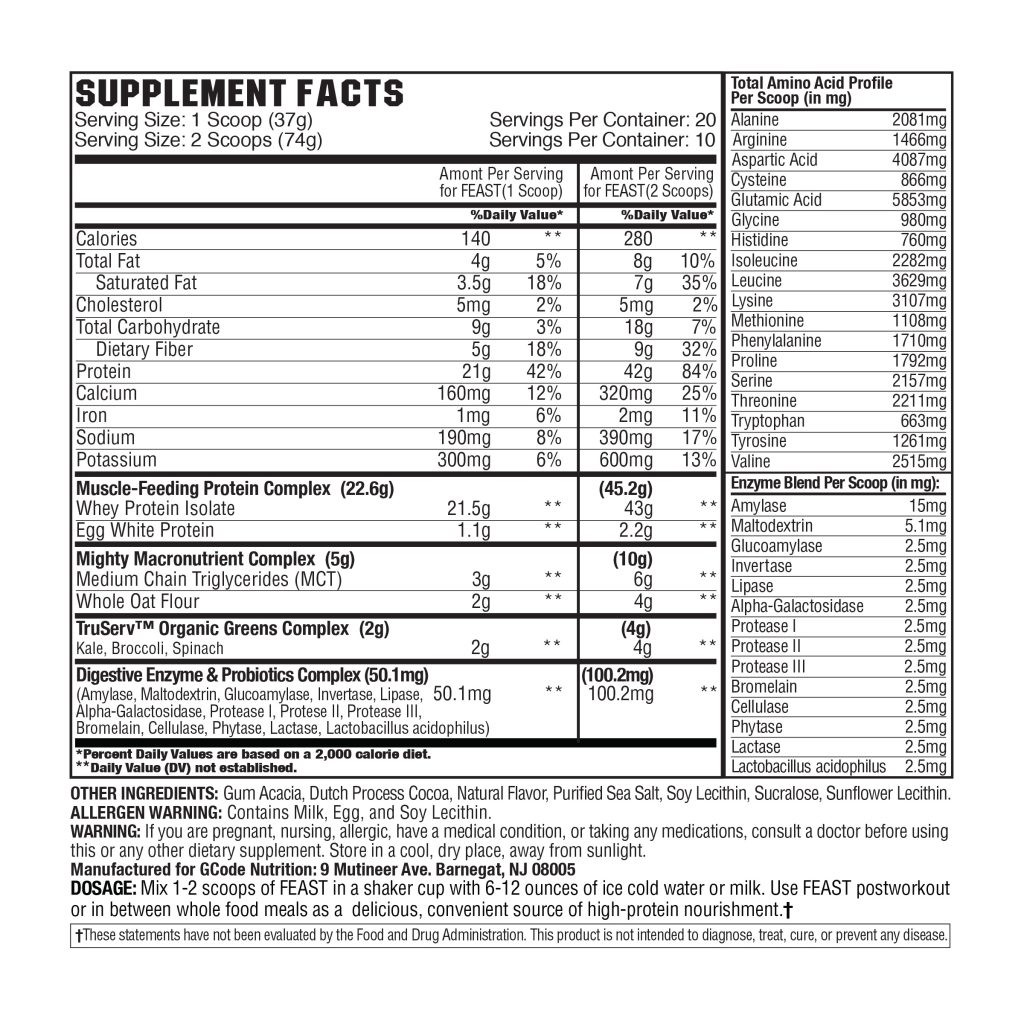 More than a mere protein shake or a standard MRP. Superior to any gainer or canned RTD. FEAST is a complete protein meal. One that is dependable and convenient. One that is versatile and tastes amazing… One you can count on when you need healthy, wholesome, powerful, muscle-feeding nutrition.
For a brand with our working class roots, a new product is not just another chance to make a buck, it is an all-encompassing event. Each new supplement is gestated and nurtured and brought to life, cultivated and curated and loved, infused with its own individual purpose and personality. Against the grain and fighting resistance, doing battle with corporate giants, each new GCode Nutrition product is a triumph. Of entrepreneurship. Of ambition. Of relentless will. Needless to say, on a personal level, brining FEAST to fruition is a big deal. And I honestly feel it will be an even bigger deal for some of you as well. Life is hectic and stressful. Days are busy and long. Training is hard and grueling. But your goals don't care. And your dreams don't stop. So we built FEAST with you in mind. Real, convenient, whole food nutrition you can depend on around the clock when a regular meal just isn't an option. You've got a lot on your plate… So put FEAST in your cup.